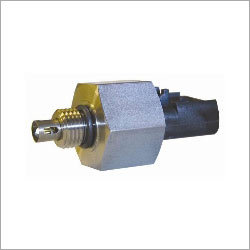 Fluid Property Sensors
Product Description
We are the well-known manufacturer, exporter and supplier in the domain, engaged in offering excellent quality Fluid Property Sensors. The sensors provided by us are primarily used to measure the viscosity, dielectric constant, density and temperature of fluids. Under visionary guidance of our ingenious professional, these sensors are manufactured by utilizing premium quality components and modular technology in sync with set international standards. Moreover, our offered Fluid Property Sensors find comprehensive usage in wind turbines, gearboxes, electric transformers, compressors and hydraulic systems.
Features:
Simultaneous sampling for Temperature, Viscosity, Density & Dielectric Constant

Data Logging, up to 30 days at 1-sample/min.

Programmable sample rates, at x-min./sample

Over Temperature Protection: (+125C) Auto Shutdown

Real-Time Clock w/ Battery Backup

Modbus 32 Interface over RS- 485

Threaded Fluidic Interface for pressurized and flow applications

Fluidic Sensing element cabled to SCU for extended installation options

AC/DC adapter provided

Host PC Application SW
Real- Time Fluid Properties
Temperature

Viscosity

Density

Dielectric Constant
Data Logging
Programmable Sample Rates

30+Days
Host Interface
RS- 485 or CAN standards

Modbus32 Protocol
Robust-Ruggedized Construction
Description
The FPA is a novel fluid property sensor that will directly and simultaneously measure the viscosity, density, dielectric constant and temperature of fluids. Relying on patented tuning fork technology, the sensor monitors the direct and dynamic relationship between multiple physical properties to determine the quality, condition and contaminant loading of fluids such as engine oil, fuel, transmission and brake fluid, hydraulic and gear oils, refrigerants and solvents. The multi- parametric analysis capability improves fluid characterization algorithms. The FPA provides in-line monitoring of fluids for a wide range of OEM and End-User installations including fluid reservoirs, process lines and pressurized high flow conduits (e.g., chemical feed, process loops) for applications that include on and off highway vehicles, refrigeration circuits (HVAC&R), compressors, oil & gas refining, commodity and fine chemical processes (e.g.) distillates), industrial equipment and turbines. The FPA supports the dominant communication interface (e.g. digital CAN J 1939 compliant, Modbus 32 over RS- 485 protocols) to simplify and enable "plug and play" connectivity with host computers, DCS and SCADA systems.
Applications
Dynamic and complex fluid states (e.g., process fluids, engine oils, fuel quality)

Wind Turbines

Industrial and Manufacturing

Gearboxes & Transmissions

Marine, Railroad or Aircraft

Electric Transformers

Compressors, Oil & Refrigerants

Hydraulic Systems

Oils, Fuels

Contact Us
A-401, Kailash Industrial Complex, Behind Godrej Colony, Vikroli (W), Mumbai, Maharashtra, 400079, India
Phone :+918037400456