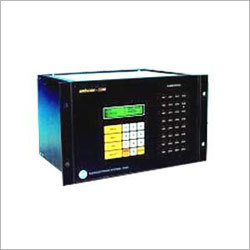 Multi Channel Data Logger
Product Description
32 Channel Data Logger
Features
Ruggedised, compact, state-of-the-art Micro-controller based system
20x 2 LCD Display
Accepts Universal input
Alarm indication by Red led
16 Point scaling
Tag name and engineering unit for each channel
RS 232/RS 485/RS 422 with modbus RTU protocol
Realtime data logging capacity 50000 readings
Batchwise recording facility
Parallel port for centronics compatible Dot matrix printer
Password for programming
Logging interval inmuteor second, user settable
Ideal for pharma applications
Application
Uniscan 3200 is a univeral input scanner/ Data logger. Type of input for a channel is programmable through keyboard
Thermocouple in put is internally compensated. External linearisation of 16 points is available for RTD, mA and mV input. Separate Alarm LED indication is provided for each channel on front side. This unit can be multi dropped on RS 485 bus.
Data logging interval is user programmable in either minutes or seconds. Stored data can be printed DOT matrix printer and ortaintsferred to PC in Excel file format.
Uniscan 3200 provides common alarm relay output and alarm status is indicated on front panel LED.
Memory has 48-hour battery backup. Memory full indication is also available.
Data login is either continuous type of batchwise with manual start/stop. Batch numberis user programmable. Batchwise printing or transfer to PC.
Memory Capacity
1700 readings per channel in case of 32 channel logger or 5400 readings incase of b channel logger.
MODBUSRTU
protocol for serial communication is provided for SCAD Application
| | |
| --- | --- |
| Input | RTD Pt100 (3wire), 0-20mA, 4-20mA, Thermocouple J,K,R,S,T,B,E or 0-1 V programmable through key board for each channel |
| Channels | 32 channels instead of 8 channels |
| Display | 20x2 backlight LCD |
| Keyboard | 16 keystacktile key board |
| Resolution | 12 Bit, 0.1 deg ro RTD and T type the mocouple, 0.01 for mA, 0.001 V for Volt, 1 deg for other thermocouples. |
| Scan rate | 1000 msec per channel |
| Logging time | Programmable through key board from 1 to 240 second or minute |
| Alarm output | Common relay out put for external Alarm indication- optional |
| Accuracy | +-5% of FSR +- 1 bit of ADC |
| LED Indications | LED indications for Alarm & Serial. Memory full indication on LCD |
| Printer port | Centronics compatible parallel printer port for DOT matrix printers only |
| Print interval | For AUT O printing printer valis programmable from 1 to 240 minute. |
| Serial port | TD 485/RS232 port with MODBUS RT U protocol for on-linecommunication OR proprietary ASCII Protocol for off-line communication |
| Data logging | Memory capacity of 1700 readings per channel for 32 channels with Real Time Stamping. ASC II Data file transfer of logged values to PC. Optional batch wise se logging with 11 character batch no. |
| Special feature | 16 point linerarisation, engineering units, tagnames, HI/Lo limits for each channel |
| Skip Channel | Channel SKIP facility for display & data logging |
| Connections | Male/ Female type- connectors on back panel for each channel |
| Cabinet | Panel mounting type. Bezel- 180x305mm (HxW) Depth: 300mm Cutout: 180x262 mm (HxW) |
Contact Us
A-401, Kailash Industrial Complex, Behind Godrej Colony, Vikroli (W), Mumbai, Maharashtra, 400079, India
Phone :+918037400456