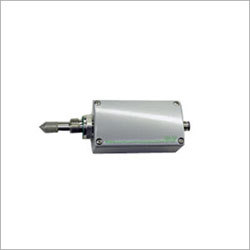 Online Dew Point Meter
Product Description
Online Dew Point Meter
The exact monitoring of dew point temperature in compressed air systems, dryers for plastic and other industrial processes is becoming increasingly more important.
The EE 375 is designed for measurement of low dew points in OEM application down to -60C (-80C)
The core of the transmitter is the monolithic measurement cell type HMC01 developed by E+E Electronic in thin- film technology.
An autocalibration procedure which is integrated in the device and years of experience in low humidity adjustment make an accuracy of <2C Td (+-3.6F Td) possible.
The transmitter has one analogue output for dew point, frost point or ppm volume concentration.
Technical Data
Measuring Quantities
Dew point (Td)
Dew point sensor: HMC01

Measuring range: -80 60C Td (-112 140F Td)
Accuracy
Traceable to intern. standards, administrated by NIST, PTB, BEV
Response time to
80 sec. -20C Td -40C Td (-4F Td -40F Td)
10 sec - 40C Td -20C Td (-40F Td - 4F Td)
Volume concentration
Measuring range: 20 200000ppm

Accuracy at 20C (68F) and 1013 mbar: 5ppm + 20% of reading
Outputs
Selectable and scaleable: 0-10V -1mA<1 <1mA

Analogue output for Td, Tf, Wv: 4-20 mA R< 500 Ohm
General
Supply voltage: 21 28V DC
Current consumption at 24V DC: Voltage output: typ. 40mA/ during autocalibration: 100mA current output: typ. 80mA/ during autocalibration: 140mA
Pressure range: 0 20 bar (0 290psi)
System requirements for software: Windows 2000 or later: serial interface
Serial interface for configuration: RS 232C
Housing/ Protection class: M12 connector
Sensor protection: Stainless steel sintered filter
Working temperature range: Probe: -40 70C (-40 158F)
Electronic: -40 60C (-40 140F)
Storage temperature range: -40 60C (-40 140F)
Electromagnetic compatibility according to: EN 61326-1 EN 61326-2-3 ICES-003 ClassB
Industrial Environment FCC Part 15 Class B

Contact Us
A-401, Kailash Industrial Complex, Behind Godrej Colony, Vikroli (W), Mumbai, Maharashtra, 400079, India
Phone :+918037400456